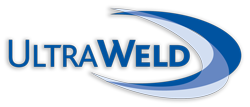 According to the U.S. Department of Energy, windows could account for 10% to 25% of a home's energy bill. Using ENERGY STAR® qualified windows manufactured with Low-E glass and argon gas to replace your single pane clear glass windows will reduce energy consumption.
Windows that qualify as Most Efficient are windows with the Ultimate2 and Ultimate Plus2 glass packages. Ask us for more information.
View the Polaris UltraWeld Window Brochures
Premium Vinyl Replacement Windows
Polaris® vinyl compound retains its pristine appearance for a lifetime.
Double hung sash tilt in for easy cleaning with Recessed Tilt Latches. Glider sash can be removed from inside for safe cleaning.
Water rushes off True Sloped Sill - no water enters extrusions and no unsightly weep holes to clog.
Our maintenance-free vinyl formulation continuously maintains its color as well as its smooth surface.
Internal Tilt Mini Blinds are child and pet safe and allergen free.
LIFETIME warranty on frame and sash.
30 year warranty on glass package. 10 years more than most competitors.
Our extruded aluminum screen frames are much stronger than roll formed frames.
Products put through rigorous testing by R&D, who ensures quality.
1) Tilt Latches have an updated look. They give the window smoother operation and better performance on structural testing.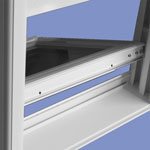 2) A Groove in the bottom of the sash for vinyl "fin" (just inside inner sill dam) to lock into, creating a secure fit.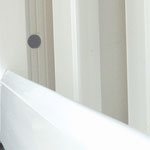 3) A Higher Sill Dam helps increase higher structural numbers. A beveled edge creates a more streamlined, clean finish.
MORE GLASS OPTIONS:
Krypton fill • Bronze or Gray tint • Double Strength
Vinyl Paint Colors
Colors shown are reproduced by mechanical process and may vary from actual colors of product.
Use actual color selectors for most accurate results.

Tan

Brick Red

Brown

White

Green

Beige

Architectural Bronze

Bronze

Clay

Gray

Black
Window & Muntin Colors
*Vintage Pecan N/A brown vinyl; **Coppertone is a hardware color option standard on wood grains.
Vinyl

White
Tan

Brown
Interior Wood Grains

Medium Oak

Dark
Oak


Cherry

Vintage Pecan*

Coppertone**
Plated Lock Options

Antique Brass

Satin
Nickel

Polished Brass

Aged Bronze
Internal Muntin Styles
Smooth

Contour

Antique Brass

Satin Nickel
Slimline Brass

View

Floral

Elongated Floral

Obscure
Glue Chip

Rain Glass
Additional Options